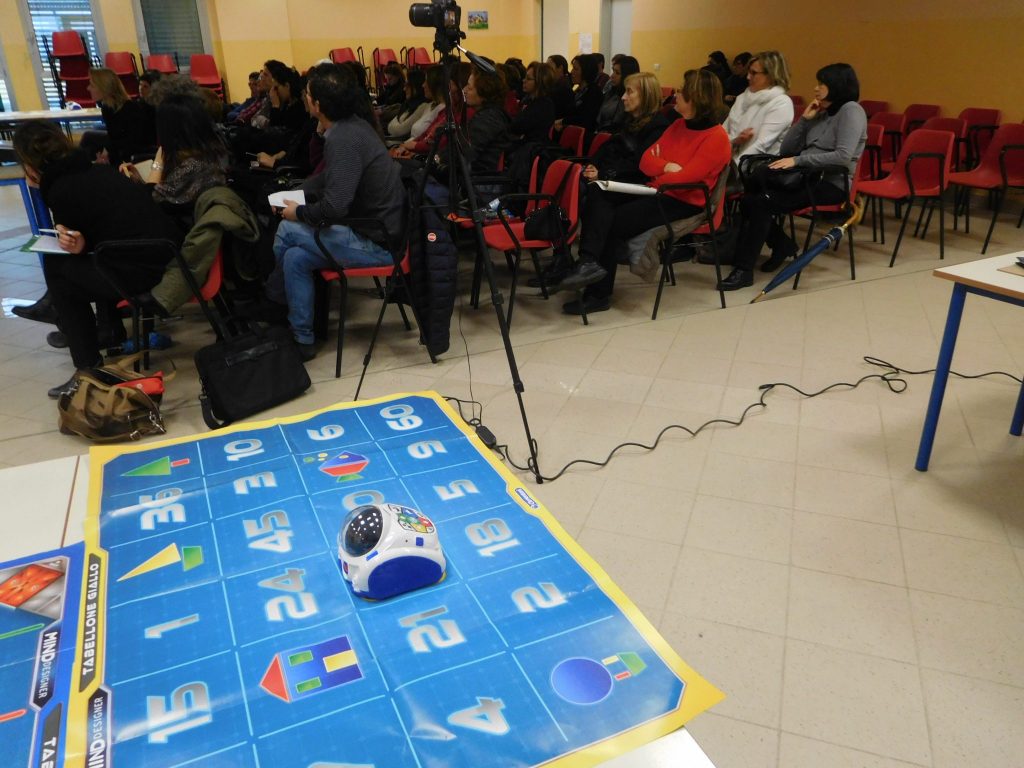 Cele szkolenia
Europejski kurs szkoleniowy Robotics Vs Bullying odbędzie się w języku angielskim i będzie całkowicie bezpłatny. Będzie on organizowany w ramach projektu "Robotyka kontra przemoc" Erasmus + KA3 i ma na celu przygotowanie europejskiego zespołu nauczycieli do roli tutora w zakresie zapobiegania przemocy i nękania z wykorzystaniem robotyki edukacyjnej. Nauczyciele ci zostaną również zaproszeni wraz ze swoimi szkołami do przyłączenia się do sieci www.nobodyless.org promującej wartości prospołeczne. Szkolenie jest otwarte dla maksymalnie 230 nauczycieli pochodzących z 9 krajów UE. Program kursu będzie przedstawiał następujące kwestie:
---
Portfolio 10.02.2021 from 17.00 to 19.00 Rome time
Wprowadzenie do projektu i tworzenie Portfolio Nauczyciela – prowadzone przez Consejería de Educación. Junta de Castilla y León (Hiszpania) i European Knowledge Pole (Włochy)
Wprowadzenie do robotyki, 24.02.2021 17.00 – 19.00 Czas rzymski Prowadzone przez: Kino Information Technology Education (Bułgaria) i Polo Europeo della Conoscenza (Włochy)
Wykłady będą obejmować:
Robotykę edukacyjną
Roboty i inne przydatne narzędzia
Znęcanie się i klasowe środowisko emocjonalne
Podejście RoBy
Uniwersalność projektu w kontekście nauczania
Robotyka edukacyjna a wiek, charakterystyka dojrzałości rozwoju poznawczego i psychologicznego – Ericson, Kolberg itp. W zależności od wieku i Strefy Proksymalnego Rozwoju Wygotskiego
Wprowadzenie do przemocy/nękania i jego psychospołecznej dynamiki 10.03.2021 17.00 do 19.00
Definicja przemocy/nękania
Profil łobuza / agresora
Profil ofiary
Profil osób postronnych
Znęcanie się w szkole (pozycja grupy w przypadku każdej roli, indywidualne stanowisko w przypadku ról)
Skutki / konsekwencje znęcania się
Zapobieganie zastraszaniu – 24.03.2021 17.00 do 19.00 Rome time
Rola nauczyciela – umiejętności komunikacyjne nauczyciela `Język w klasie
Praca zespołowa: różnice między pracą grupową a współpracą
Prezentacja niektórych strategii poprawy relacji społecznych i klimatu emocjonalnego w klasie
Relacje między rodzicami a szkołą –07.04.2021 17.00 do 19.00
Rola rodziców i szkoły w zapobieganiu zastraszaniu
Prowadzone przez: Consejería de Educación. Junta de Castilla y León (Hiszpania) European Pole of Knowledge (Włochy) Association ARID (Poland)
Dostępne gry i materiały robotów –21.04.2021 17.00 do 19.00
Prezentacja robotów i ich działania. Prowadzony przez: University of Burgos (Hiszpania) – European Knowledge Pole (Włochy)
Pierwsze podejście do wykorzystania robotyki edukacyjnej, organizacja grupowa, metody –05.05.2021 17.00 do 19.00
Praktyczna organizacja zajęć Zasady i role realizowane przez: University of Burgos (Hiszpania) – European Pole of Knowledge (Włochy)
zkolenie będzie miało również część praktyczną, która po szkoleniach online odbędzie się w Polsce. Sesja praktyczna będzie zarezerwowana dla określonej liczby osób w każdym kraju. Koszty mobilności, zakwaterowania i wyżywienia pokryje projekt.
Szkolnenie jako kurs mieszany (bezpośrednie spotkania online), 14 godzin zajęć Zoom oraz 26 godzin samodzielnego studiowania i przygotowania liczy się jako 40 godzin – 4 ECTS (1 ECTS / 10h). 30 godzin stażu w Polsce da 7 ECTS (70 godzin). Kredyty zostaną potwierdzone przez Burgos University – Hiszpania
Aby dołączyć do szkolenia, należy:
Być nauczycielem i pracować z uczniami w wieku od 5 do 12 lat
Zaakceptować zostanie nauczycielem robotyki kontra zastraszanie
Aby skontaktować się z krajowym koordynatorem, aby Twoja szkoła dołączyła sieci Nobodyless Community Network dotyczącej wartości prospołecznych www.nobodyless.org (jeśli jeszcze nie jesteś członkiem)
Aby dołączyć do szkolenia googlegroup kliknij tutaj: Wejdź i dołącz do googlegroup
Aby wejść na czat w aplikacji Viber na smartfonie, aby otrzymać szybkie instrukcje i koordynację kliknij: Wejdź na czat
The training course will also have a practical part, which will be held in Poland after the online training sessions. The practical session will be reserved to a fixed number per country. The mobility, lodge and food costs will be supported by the national project's partner.
The course as a blended one (the face-to-face part online meetings),  14 hs Zoom meetings and 26 hs of reading and preparing counts as 40 hs — 4 ECTS ( 1 ECTS / 10hs). 30 hs of in presence training in Poland will give 7 ECTS ( 70 hs). The credits will be certifies by Burgos University  – Span
To join the training course you need:
To be a teacher with pupils from 5 to 12 years old
To accept to become a tutor of Robotics versus Bullying
To contact your national coordinator to have your school joining the Nobodyless Community Network about prosocial values www.nobodyless.org (if not yet member)
To join the training course googlegroup here: Enter and join the googlegroup
To enter the following chat in Viber app on your smartphone to receive fast instructions and coordination: Enter the chat
And Finally to register to the following google form: Fill the form here