Teacher's name: Radostina Dasheva – 6th Elementary School "St. Paisius Hilendarski"- city: Kyustendil
Title of the game : I solve problems with RoBy and Maya
General aim of the game:
Consolidation of knowledge and skills in Mathematics for multiplication and division of a multi-digit number by a single-digit number of a child with SEN in the fourth grade.
Age range addressed: 11 years old
Robot that can be used for this game: MIND Clementoni robots
Description of the board:
The game board is a table of cells arranged in 4 rows and 6 columns. In some of the cells, cardboards of different colors are placed, on which tasks are written. START is marked on one of the fields. Prize cards are placed on the first row in the sixth column.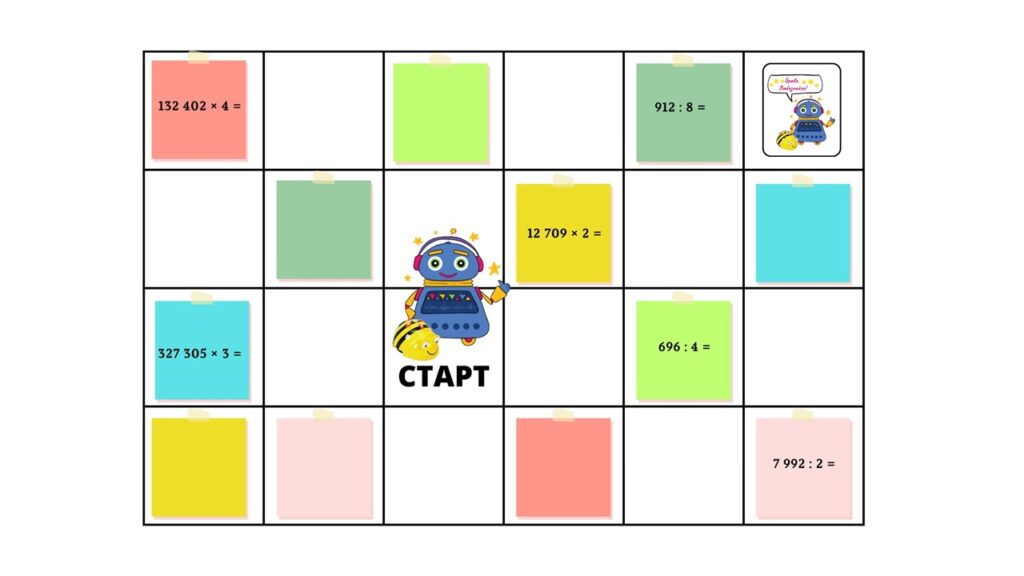 Other useful materials:
A set of cards in different colors with tasks that the child needs to solve.                                                                                                                     
Reward card – "Well done, Lover!".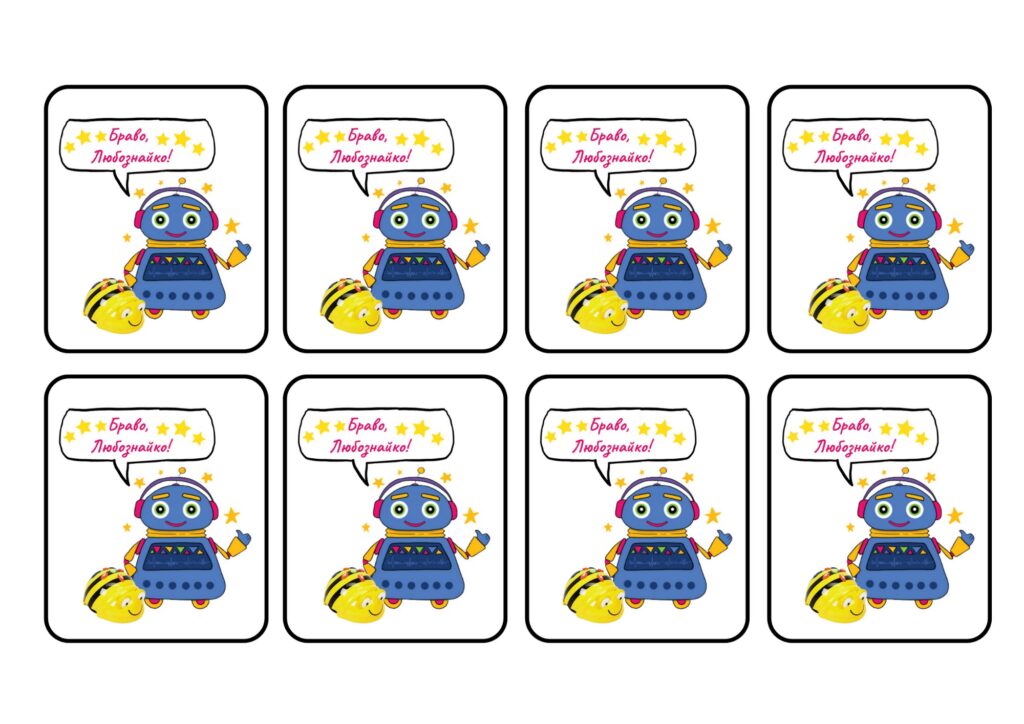 Phases of the game:
Preparation:
Tasks /multiplication and division of a multi-digit number by a single-digit number/ and their answers are written on sheets of different colors. Each task and its answer are one color. They are placed on the workspace randomly.
Start of the game:
It is explained to the child that Roby needs to solve the tasks, but he cannot do it alone. Roby needs his/her help. With which task it will start and with which it will end, he/she chooses  and with the help of ROBY they start the game.
Core phase of the Game
It is explained to the child that he will help Robbie when he solves all the problems correctly.
The robot turns on and moves along the board to the field with the first task.                                                                                                             
The student takes the sheet with the task, writes it in the notebook and solves it.                                                                                                     
Finds the other sheet of the same color on the playing field that contains the answer to the task. Moves Robbie to him. With a correct answer, the robot heads to the prize box. The child takes one of the reward cards. If a mistake is made, the teacher helps with guiding questions to the correct solution.
Actions are repeated until all tasks are solved.                                                                                                                                                                   
The game ends when all tasks are correctly solved and the child has collected all the cards "Well done, Lover!".
Conclusion:
The child participates with interest and desire in activities with Roby. Program the robot without looking at it. Makes extremely difficult programs to move him around the work field. He/she violently expresses his joy when solving tasks successfully. It concentrates for a longer time.
Variants
The game can also be adapted for the language learning, Man and society, Man and nature, English language. In the Bulgarian language, it can be used to study the main parts of speech, etc.